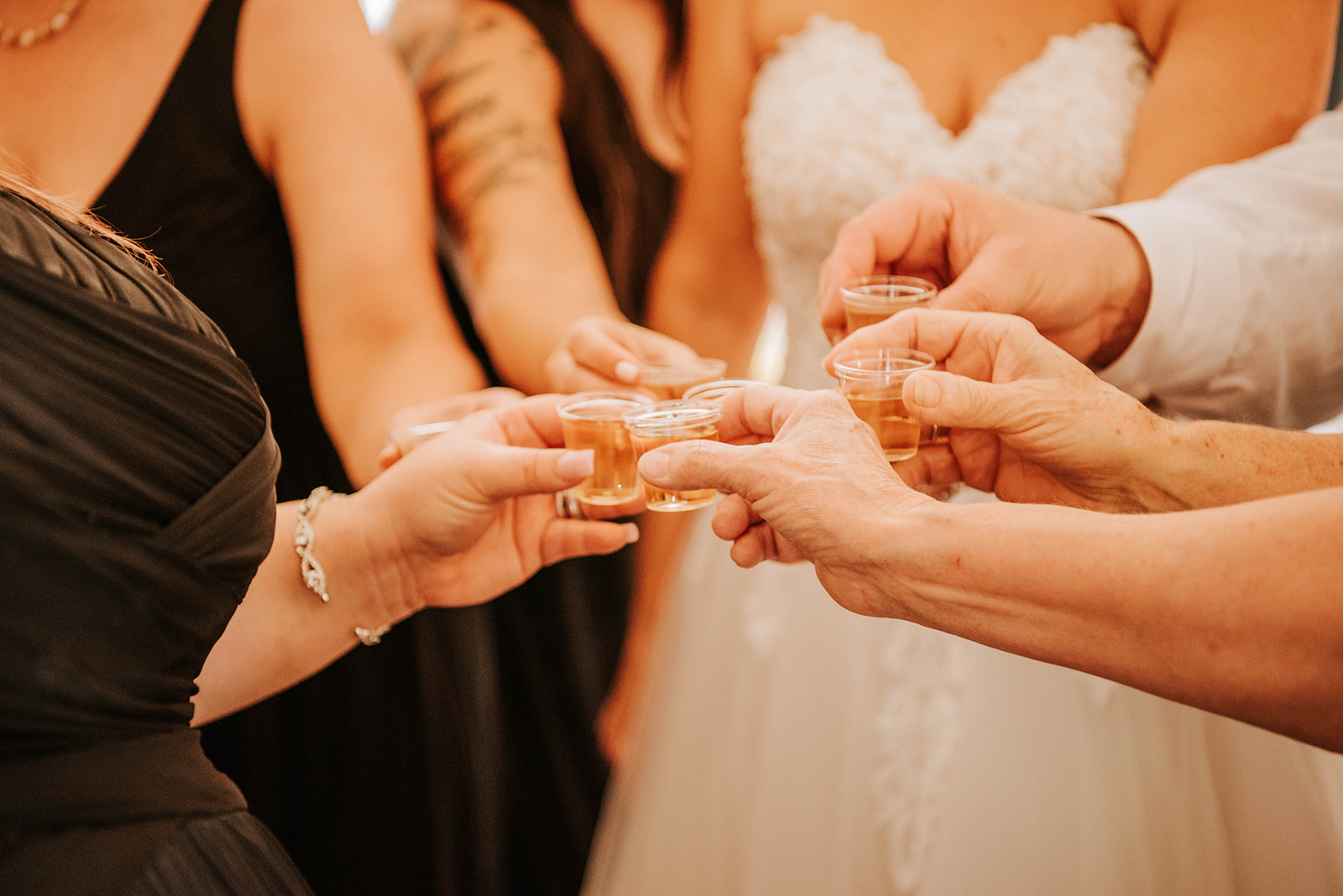 Unless you're in the industry or have done your fair share of googling, you're probably unfamiliar with the variety of service styles available to you on your wedding day. You may have seen the words plated, sit-down, stations, buffet… but what do these terms actually mean and which style aligns with your vision?
The three main types of catering service are buffet, family style, and plated. There are pros and cons to each style of service, and we will help you decide which is the best for you.
BUFFET
In buffet style service, we lay the entire meal out in a beautiful display with linens of your choice and fresh greenery. Guests will walk along the buffet with their plates and serve themselves, or wait staff will serve each guest from the buffet. Having the guests serve themselves from both sides of the buffet is the most time-efficient method, while having guests served by staff can add elegance and assists with portion control. "Stations" also fall into this category. Instead of the meal being laid out on one long table, the various elements of the meal are served at different stations.
Why we love it: 
Your guests get to try a little bit of everything! No staring enviously at your table mate's plate because they chose an entree that you wish you did. Everything is on the buffet and up for grabs for every guest.

Cost-effective! Buffet style service does not require as many service staff as plated and family style meals do.

Mingling! Guests get to "ooh" and "aah" together at the buffet looking at the delicious

options

and get to know each other. It's a fun time!
Why it isn't for everyone:
Generally, your DJ will excuse tables one at a time and guests will line up for their turn at the buffet. Some couples do not like the idea of a line, even if it is a fairly brief time, and most guests mingle and enjoy themselves.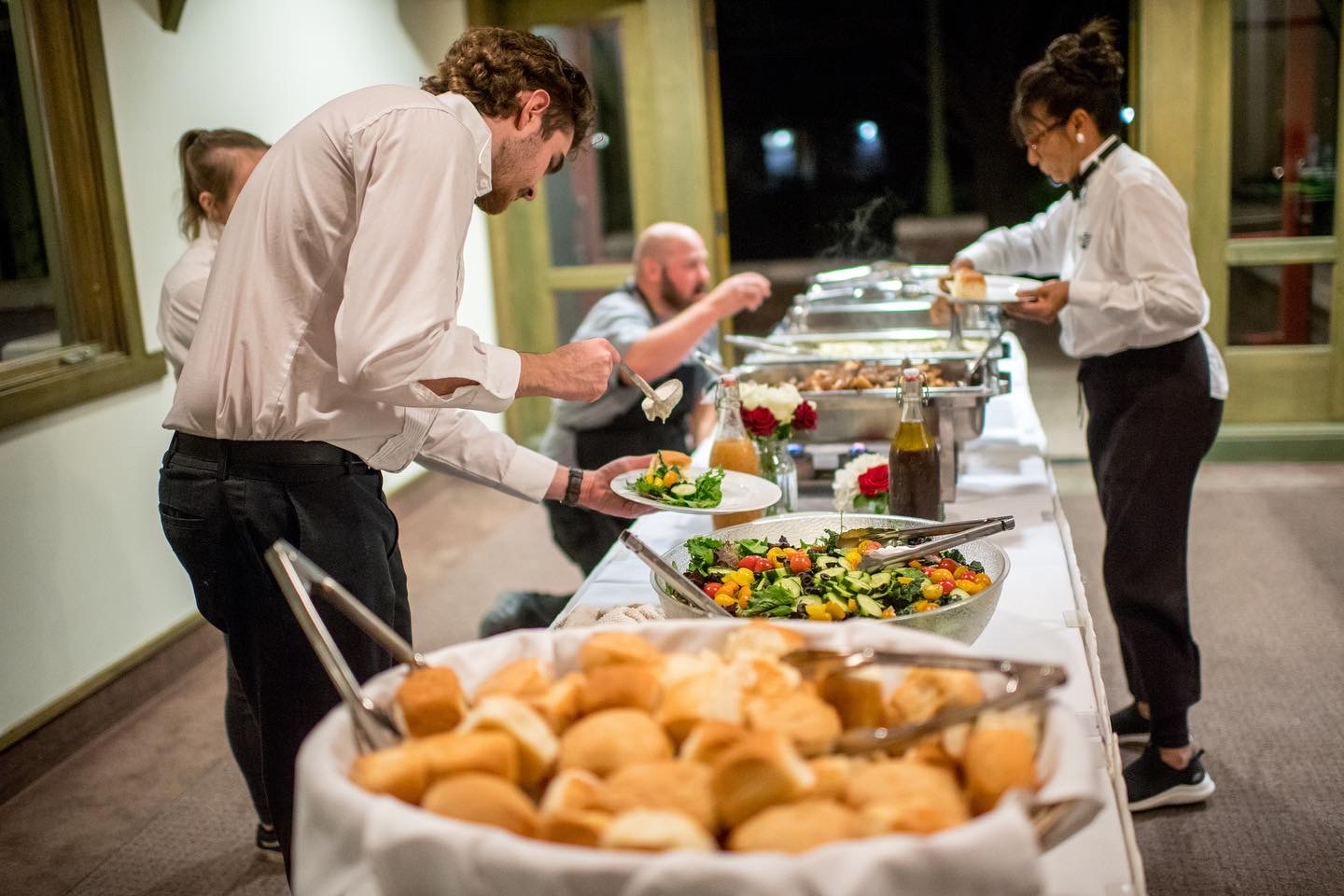 The Phil's Crew preparing the buffet table at Cypress Ridge in Arroyo Grande, California. Photo by Blue Photo.
FAMILY STYLE
With family style service, the guests remain seated and the servers bring the entrees and sides to the table. The guests then serve themselves and each other from the platters. You get a great presentation but on a smaller scale at each table.
Why we love it:
Mingling! By sharing food and serving each other, this is a great way for guests sharing a table to get to know each other better. It eases the small talk and builds connection.

No lines! The food is brought by the serving staff to each table so there's no need to queue up.

Presentation: The beautiful, full platters of food being delivered right to the table elevate the meal and experience.

Customization: You can rent the exact serviceware that you would like used at the guest tables to match your theme and aesthetic!
Why it's not for everyone:
Added staff and rentals: More servers are required to deliver the meal straight to the guests' tables, and the platters/bowls/plates, etc. need to be rented. This can be cost-prohibitive for some.

Self-serve: Guests are serving themselves and each other at the table rather than be served by wait staff, such as with a plated meal.

Limited table space: The various platters and plates can take up quite a bit of room on the table and may limit the amount of decor you can use on the guest tables.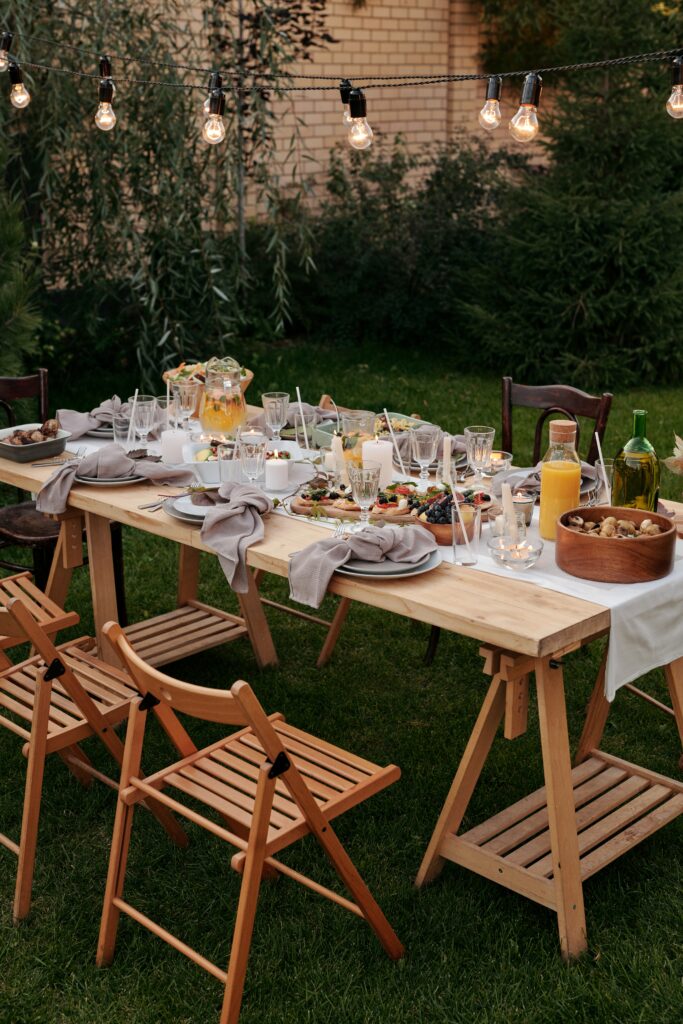 PLATED
Some find this style of service to be the most elegant. Highly trained servers will bring the guests' plated meals directly to them, a couple of tables at a time until everyone is served. 
Why we love it:
White glove treatment! Who doesn't love kicking back, chatting with your buddies, and being served a hot, delicious meal?

Presentation: Each plate is plated by a chef who is invested in the presentation of the meal which represents their work. Each plate is handcrafted and beautiful.

Dietary restrictions: Each plate can be customized based upon the allergies and restrictions of each guest without the guest having to ask a bunch of questions to make sure each item is safe for them. These details are worked out in advance and their customized plate arrives to them, worry free.
Why it's not for everyone:
Time-efficiency: It can take time for the wait staff to plate the meal for all of the guests. 

Additional staff: More servers are required for this style of service which can be cost-prohibitive to some.

Choices: This style of service requires that the guests decide on the meal they want well in advance of the wedding. When the day arrives, they may long for their table mate's gorgeous looking salmon because they selected the steak.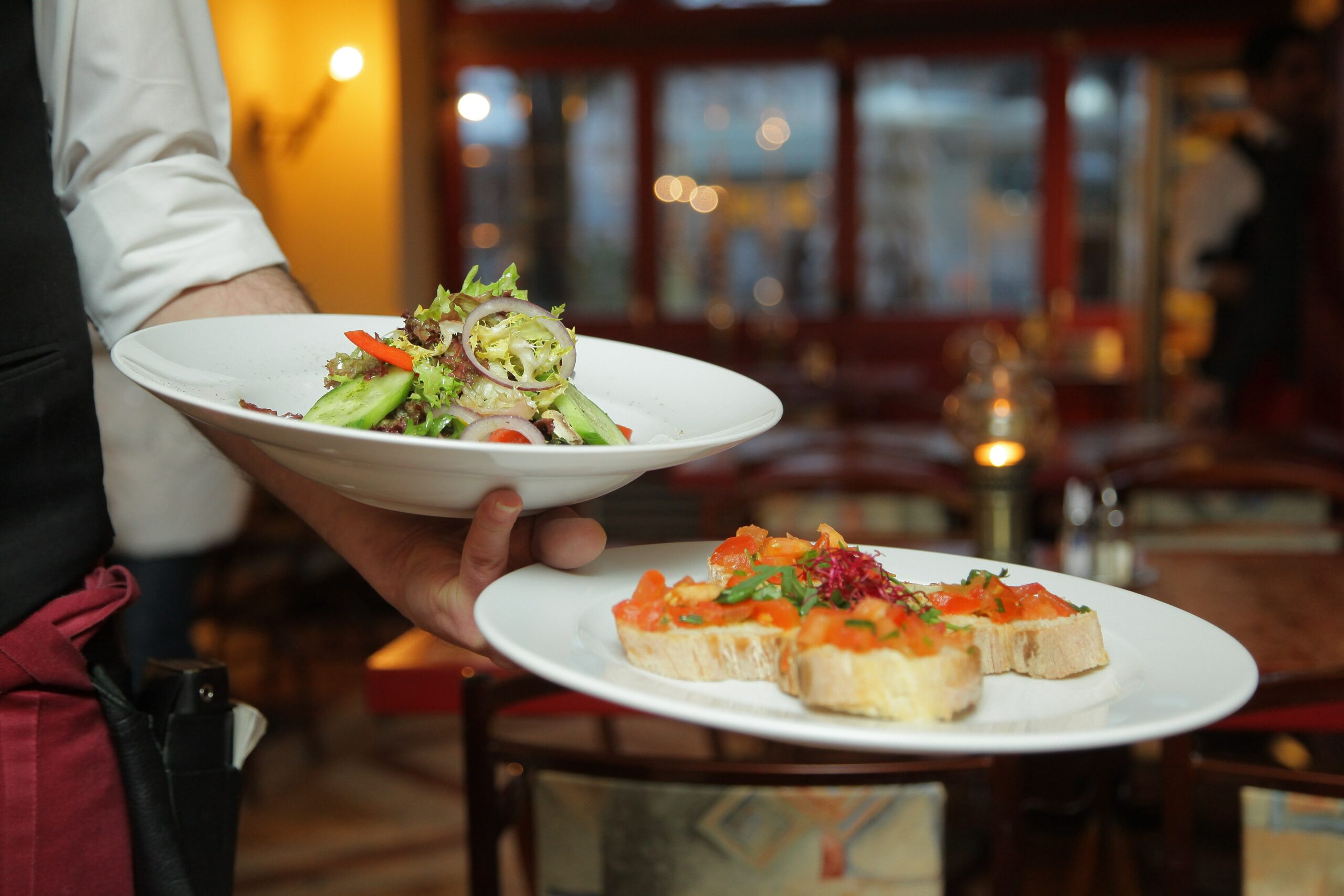 Here are some questions to ask yourself to determine which service style is best for you:
What type of service does my budget allow for?

What type of service best suits my menu?

What do I want the overall feel of my wedding to be? Relaxed and comfortable, or more elegant and formal?

What types of service can my wedding venue accommodate? 
Reach out to Phil's Catering to further explore these service types and figure out which option is best for you! Contact us at brittney@philscatering.com or by phone at (805) 489-3869.